Warwick castle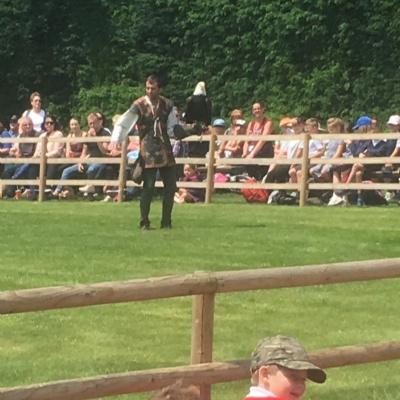 On Thursday we went to Warwick Castle to search for some brave knights, beautiful princesses, fearsome dragons and cute unicorns!
After a very long journey we were very excited to arrive and see the castle! We had to quickly run to see the trebuchet fire a rock but it was so amazing and we were so excited to watch it! We then ate our yummy lunches in the beautiful sunshine. Then we went exploring and watched the birds of prey display. Some of the birds were very brave and flew so close to our heads that we thought we might get picked up and taken away!
We climbed the tower and lost count of all the winding stairs. We explored the Grand Hall and we were able to look at the rooms and the armour that was in the castle. We also climbed to the top of the mound, which was very high, to see the breathtaking views of the grounds. We also went down into the gaol, which was dark, damp and smelly and we decided we did not like this room. It wouldn't have been nice to be locked down there!
It was such a fun day and it was then time to go home! We didn't see any unicorns or dragons which left us a bit disappointed but it was so much fun and so exciting to see the castle that we soon forgot! Lots of us slept on the coach; including the parents! We can't wait for our carvery meal now! See our photos HERE!