SCIENTISTS FOR THE DAY!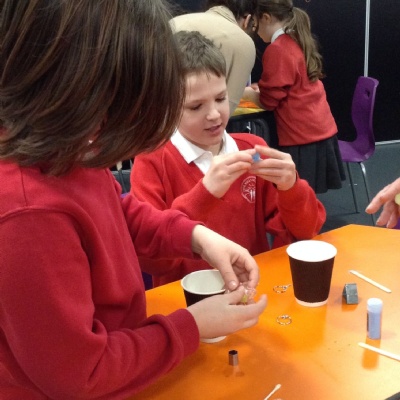 Last term, we were lucky enough to visit the stem discovery Centre in Stevenage. It was really cool!
Our first activity was super smart materials. We learnt about the properties of a polymorph and how it could be used to make keyrings! We added some hot water to our polymorph and then molded it into the shape we wanted for our keyring. The polymorph would then cool and then solidify to be made into a key ring. We then added a special pigment that appears to be one colour during daylight but changed colour and glows at night- it was amazing! It was a great activity as it linked to our states of matter topic at school.
We were then able to explore the exhibits which was amazing! We were able to investigate all thing science including; static electricity, puzzles, magnets, volcanic eruption, light and forces! We were challenged by the staff to get our teachers involved. Miss Lowden and Miss Akhtar certainly received lots of electric shocks from us! We went on a spinning equipment which was so fun- we had to use our legs and balance to push the spinning equipment. We even made all our teachers have a go!
After a smooth morning, we then had the opportunity to learn about the Mars Rover mission. It was fascinating. We even got to see other prototypes for ourselves from the viewing area!
We saved the best the best till last…our final activity was the 'could it be magic' show. Some of us were lucky enough to be called up to assist the lovely lady demonstrating the experiments. It was fantastic! We got to see a variety of tricks that were explained through science.
It was 'the best day ever' and we 'want to go back'! The staff were all great and the activities were so fun! We came back to school showing more interest in science and even told our teachers that we would love to do this trip again or even do these science activities at school! We would also like to thank all the parent's helpers who came with us to the trip!
Have a look HERE for some photos from our day.