YEAR 6 FRENCH TRIP!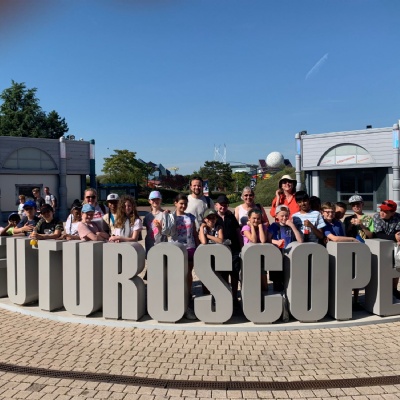 On Monday 17th June, Year 6 began their journey to France for their 3 night stay on their first overseas residential accompanied by Mrs Whitehead, Mrs Cope, Miss Lowdon and Mr Parker.
The majority of the first day was taken up by travel; we left the Hills Academy at 11am and we arrived at the Futuroscope hotel at approximately 8pm (7pm GMT). Travelling to our hotel turned out to be quite and adventure in itself. We did successfully navigate through an airport and get through airport security with a large group of children but we decided as a group to check luggage onto the plane next year rather than having carry-on luggage. The flight to La Rochelle Airport took approximately 80 minutes and was enjoyed by all: we were treated to stunning aerial views of England, France and the English Channel. After arriving at La Rochelle Airport, we boarded our coach transfer to the Futuroscope Hotel, which took approximately 60 minutes. When we finally arrived, the excitement could be felt in the air. Because of the time of our arrival, we had to quickly check-in and leave luggage in our rooms and head straight to dinner. An all-you-can-eat buffet was on offer and was taken full advantage of by many. Although the children were very excited for their first night, they did unpack quickly after dinner and they fell asleep straight away (to their teacher's delight): it had been a long day.
The second day was full of activities. Following another buffet-style breakfast at the hotel, a full day in the Futuroscope hotel was on the itinerary for Tuesday. Sun-cream at the ready and water-bottles filled, we headed to theme park. The hotel was attached to the park so it only took us 5 minutes to walk across. The park was amazing. There were state-of-the-art simulated rides, smaller fair-ground rides, places to sit down on the grass by a lake and relax and places to have lunch and dinner. The children were also desperate to shop for souvenirs inside the park. When the park closed at 8pm, we went back to the hotel room to fill up our water bottles, change clothes and relax for an hour before heading back to the park to watch the 10pm night-time show. We were unsure what to expect when heading back to the park to watch the show. However, we were treated to a magnificent display of lights, fire and water fountains. We couldn't take our eyes away the entire time. We arrived back at the hotel at approximately 11pm and once again the children fell asleep quite quickly: it had been another full day.
On the agenda for our third day in France was a guided tour of Poitiers – the city that we were staying in – and a visit to the local caves also. We met our local history expert when we arrived at the tourism office and began our tour straight away. In addition to its Romanesque architecture and cobbled lanes, Poitiers has a very interesting history. We visited castles and palaces, universities and old guillotine sites, and we learned a lot. Following the tour from our history expert Valentine, we stopped for lunch on a little square next to a beautiful medieval church. Just by chance, we were right next to a French market. The children jumped at the opportunity to explore a French market and put their French to the test whilst attempting to buy some items from the market. The teachers were very impressed with some of the food that the children were willing to try from the French market. After lunch, we visited a prehistoric museum in a nearby town and were also given a tour of some local caves where important archaeological finds had been discovered. Once again, our guide was extremely knowledgeable. We were transported back to our hotel afterwards and took advantage of the buffet-style dinner once again. There was some time on the itinerary to relax after dinner following two full days of activities. However, this turned into games on the beautiful green on the hotel site. There were French schools at the hotel also and the children attempted to communicate to each other with a combination of French and English. Following games on the green, it was time for a final night at the hotel.
In the morning, we were up, packed and had eaten breakfast by 9am ready for our departure. Our coach driver met us at the hotel and drove us into La Rochelle for the morning. We had 3 hours to explore by ourselves but we wish that we had longer: La Rochelle was beautiful. We walked through the city centre and visited another French market with the children and stopped by a stunning harbour to eat lunch and buy ice-creams. Our time in France had come to an end. We boarded our coach, headed to the airport and caught our flight home to the UK. We arrived back at The Hills Academy at approximately 8pm. We were glad to be home but we were also sad that the incredible adventure had come to an end.
The trip was an amazing success and we are hoping to have another successful trip next year with our next cohort of Year 6 children. A huge well done to the children in Year 6 this year. They have been the first Year 6 cohort within the school, the first year group that we have taken on an overseas residential, and they will be a year group that we will never forget.