YEAR 5 RESIDENTIAL VISIT!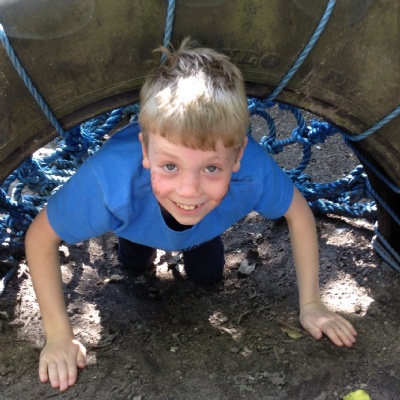 We got up really early last Monday morning for our residential trip to Norfolk. We had to be at school ready for the bus to leave at 6.45am!!
Day 1
When we got to Hilltops we went to our rooms to drop off our bags and sleeping things, I'm so excited to be sharing a room with my friends. After this we sat on the patio to eat our packed breakfast before our activities. The first morning we completed some ice breaking games all together, I really enjoyed these!
After our packed lunch we split into 2 groups to look at coastal erosion (at the beach) or the assault and agility courses which were so much fun! For coastal erosion we learnt about how the coastline is wearing away and how people are working to stop it. Then we actually went to the beach and built a dam at the bottom of a waterfall and then we built a town and when the dam broke we had to see what got washed away. Before dinner we had some free time to play with our friends in the games room, there was a snooker table, table tennis and table football… we could also just chat to our friends or read a book. When we had eaten a yummy lunch of fish, chips and peas we went on a hike o explore around the grounds and when we found a campfire we had a very loud sing song around it (even though it wasn't lit).
Day 2
On the second day we had bacon and eggs for breakfast and then split into our 2 groups. One group went on the Big Zipper and archery and the other went on the high ropes. I went on the Big Zipper…wow it was big... and then to archery. After lunch (jacket potato and salad) we split again and some people did the assault/agility courses and others went to the beach to study coastal erosion . Dinner was roast chicken and then we walked to the beach. It was a nice walk through the woods and we could see the sea in front of us. When we got to the beach we found out we were going to an ice cream shop to get ice cream… it had 79 flavours to choose from! The ice cream was really tasty and while we were there we found 2 painted rocks hidden by someone from the local Norfolk Rocks site so we picked them up to hide to post and hide again! After walking home we were all ready for a good nights sleep ready for our final day!
Day 3
On the third and final day we had to be up, washed and packed by 7.15, this was a bit of a rush but we managed it with seconds to spare! We had another cooked breakfast and then some went to the high ropes and others to The Big Zipper and archery. Lunch today was pizza and salad which was delicious. The coach came to collect us and we were on the road by 1pm ready to see our grown ups and sleep in our own beds!
We had an amazing time at Hilltops: Minaal's favourite experience was the high ropes and Freddie C loved the Big Zipper as it was so fast and fun. The weather was amazing, the food was delicious and the activities were great. I'm sure we (the children and staff) will never forget it!
By Jamie
Click HERE to see some photos from our trip!