Ancient Egyptian fabulous finish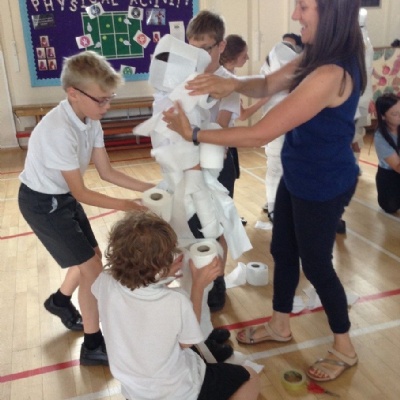 On Tuesday, Year 5 had their fabulous finish for their amazing ancient Egypt topic. The children had lots of things to do including: a confusing quiz; an excellent dance and a marvellous mummification challenge.
To start off the day the children performed their excellent grandparents' dance again for the grown-ups that had not had the chance to see it on the day. All the people watching were very impressed and gave a huge round of applause once the dance had been completed.
Next was the marvellous mummification challenge where the children and adults got into groups of four and mummified one member of the group using only toilet paper and sellotape. All of the mummies looked awesome and eventually the mummy that looked the best was chosen as a winner.
After the mummification challenge, the children and their parents got into lots small of groups to complete a quick quiz. Even though the quiz had some especially hard questions, some people scored full marks and won.
Once the quiz was over, Mrs Frost came in to help the children with the super songs they sang for their grown-ups. The songs about ancient Egypt went down brilliantly and the parents were very impressed with their children's singing skills.
At the end of the fabulous finish the children got the chance to show their parents their English work and have some yummy biscuits. All of the children enjoyed their fabulous finish and had a great time.