Year 5 Fab Finish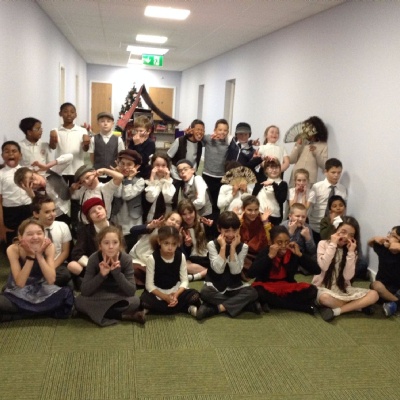 On Thursday 30th November, we dressed up as our favourite victorian and had an extraordinary day.
Our parents came in and enjoyed trying some scones and tea we had prepared beforehand- we really hope that they enjoyed them. We served them on intricately designed china cups and saucers (this gave the room a real Victorian feel).
The costumes were unbelievable! There was a huge range of styles and wealth; from upper class businessmen and women to paupers that had barely enough money to live on. Then we took a group photo in front of our beautiful doll's house.
Our doll's house looked amazing! The furniture was all handmade and when it was finished it looked astonishing- some rooms even had real light bulbs to make it look authentic.
Our parents also came to see our fabulous work. This included our narrative poems, our self- portraits and our victorian timelines. See our photos here.